Designing Spike One With Natalie Candrian
Read Time ~ 3 min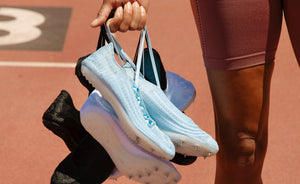 "This is the story of the
birth of Spike One."
Saysh's story begins with Allyson leaving her then-sponsor Nike in 2018. Allyson wasn't simply standing up for herself but for her fellow teammates and athletes who too may have aspired to have a family and not have it held against them. She was standing up for the next generation of athletes who deserve to have it all: a family and a career and not feel like they have to choose between one or the other in order to support themselves and make a living.
But that left Allyson without a shoe sponsor. She needed a shoe, specifically a spike, to train and compete in as she embarked on her final Olympic journey.
This is the story of the birth of Spike One.
For sprinters, the spike is one of the most important aspects of what they do. Depending on the specialty, they may need something more rigid to power through short sprints, or they may need something that's a little more flexible as they attack the turns and straightaways.
Allyson needed a shoe that was lightweight, sturdy, and that would support her through rounds of the 200, 400, and 1600-meter relay.
Tasked with one of the most challenging yet rewarding opportunities, Natalie Candrian, Tiffany Beers, Mike Fritton, and Larry Eisenbach did something unheard of. They created a spike that is both functional and aesthetically pleasing for Allyson to compete in in less than a year.
Allyson's story set the brief for Saysh One, says Natalie Candrian, Saysh head of product design, which would ultimately inspire Spike One. During the design process for Saysh One, Candrian recalls asking herself, "How do I give Saysh One the soul of Saysh and the soul of Allyson's story from the emotional point of view?"
The transparent material represents Allyson's transparency about her story, her struggles, and her truth, says Candrian. The transparency of her journey and fighting for a better world for young girls and women where they know their value and worth, and so do others. To hear and see women. "To change the standard of the way we have done things in the past and show that women will not be overlooked," in the words of Allyson.
Spike One "was literally meant to be the big sister of Saysh One and to be her story on her foot at her last Olympic trials, and then obviously the Olympics," explains Candrian.
Candrian recalls she and Beers being nervous to take on an endeavor this important because they didn't want to jeopardize Allyson's training or put her at risk of getting injured. And unlike most brands that begin innovating on designs and technology with a large team and budget for the Olympics four years out, the team of four had less than a year to create a spike that would get Allyson through training sessions and competition at the highest level.
"Spike One 'was literally meant to be the big sister of Saysh One and to be her story on her foot at her last Olympic trials, and then obviously the Olympics.'"

Spike One is made from the same material as Saysh One, it's lightweight yet sturdy, and was designed for breaking records. The bespoke spike was made for Allyson's foot and also features 3D printed plates, which are often used for spike prototypes, not the final product. But when you're Allyson Felix, you set the trends. (We're pretty sure she's the first track and field athlete to compete in a pair of spikes that feature 3D printed plates.)
At the 2020 Tokyo Olympics, Allyson became the first track and field athlete to compete in their own shoe in the Olympics — and win a gold medal in it. She also made history as the most decorated U.S. track and field athlete ever.
Allyson always dreamed of having her version of Cinderella's glass slipper, and with the transparency of the material of Spike One and it symbolizing her struggle, her journey, and her freedom, Spike One is just that.