Designing Saysh One by Natalie Candrian
Read Time ~ 6 min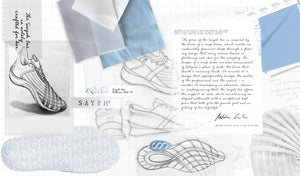 The SAYSH team met me with Allyson's story. It's Allyson's story that founded SAYSH. Not a brief. And I love that, that what the founding team was asking for was to create a sneaker that tells the SAYSH story and evokes these words on an emotional level: FLUID GRACE. Those words describe Allyson and her story and the path she is on. The journey Allyson invites us to join her in is one of FLUID GRACE, she invites us all to navigate the world that way, and wants to give us the tools to make that possible.
I'm educated as an industrial designer. That means that you observe a consumer's need and interaction with a product. From there you improve said interaction from a performance point of view: creating something new that she didn't know she needed or desired, but once it exists, can't imagine life without. That is what I do. I understand and know what it takes to create a sneaker that delivers comfort, fit and support for an all-around great experience: a sneaker that works for her walking the streets, hanging out, taking on a light workout or joining her friends for a fun hike. 
What makes me most happy is to layer my job of performance driven product design with emotion and storytelling. My goal is to reach our SAYSH woman on an emotional as well as on a practical level. When I manage both, my job is done.
I start with the story, the emotions, the words and let it sit in my mind. I see images and start a mood board: some aspects of it are more "mood" based, others start to visualize shapes and form. For SAYSH ONE I looked for interpretations that evoke similar feelings for her. Two came to mind. The first was a wrap dress, famously created by Diane Von Furstenberg in the '70s, but timeless, ageless. It works for everybody type and can be styled for any occasion and time of day. It is ultimately a "hug." The diagonal wrap is very flattering. The second was an image I found of a very sculpted sweater-like top that looked elegant and modern. It begged the question, what would a modern hoodie around your foot feel and look like? 
Obsessing over details, finishing touches and colours allows our
work on product to sing in perfect harmony
These ideas create the basis of the concept behind SAYSH ONE. I start to sketch and find different ways to interpret my thought process, to bring together elements that feel protective and empowering. My 20+ years experience of designing footwear allow me to both understand the "rules" of footwear and know where to push the boundaries. All of this happens in collaboration with the team, and my ultimate partner in crime, Tiffany Beers. We bounce ideas back and forth and start to brainstorm materials and methods of building the design. I like to keep an open mind and love bringing in everyone's expertise and ideas: our combined efforts make for the best possible outcome.
We came across a beautiful way to mold the heel, giving us the sculpted and dramatic look we were hoping for. It's made in one piece which keeps it elegant and modern, but also allows us to build a great fit (with integrated internal cushioning) around the proportion of a woman's heel and achilles. For our forefoot we learned of a new weaving technique called creel that allowed us to weave in transparent layers, creating the illusion of lines wrapping across your foot that evoke the track itself. The result gave us a beautiful V-shaped eyestay that builds a snug fit around your midfoot. It also creates the very flattering and feminine visual we were working towards. The combination of the two elements work in perfect harmony and balances out heel to toe proportions.
"It all starts with that feeling, and the goal is that it keeps going with the feeling, throughout the journey."
In tandem with SAYSH ONE we built SPIKE ONE: Allyson's spike to race this year. A spike is a very different thing—it's ultimately the car, the machine on Allyson's foot that enables her to do what she does better than anyone else. We asked Mike Friton and Larry Eisenbach to join us in building that engine. Their lifelong experience and dedication to Track & Field footwear makes them an obvious choice and the best builders you could possibly bring on board. While Mike and Larry built the technical foundation for both plate and upper, I had the pleasure to overlay it with the same visual storytelling as SAYSH ONE. The non-stretch, ultra lightweight creel material works perfectly for a spike. The result is a stunning visual of FLUID GRACE and gives Allyson a lighter spike than she has ever run in before. It is a transparent slipper giving her just enough to do what she does so well—run fast, really, really fast.  Both SAYSH and SPIKE are designed to let women do what they do so well, with FLUID GRACE.