Know Your Place
Read Time ~ 4 min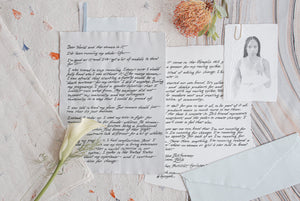 I was told to know my place,

that runners have to run.
Dear World, and the women in it, I've been running my whole life. I'm good at it, and I've got a lot of medals to show for it. I was scared to stop running. I wasn't sure I would fully know who I was without it. 
Like many women, I was afraid that starting a family would be a "death sentence" for my career. I did it anyway. During my pregnancy, I faced a gender injustice that I couldn't run away from. My employer did not support my maternity and my colleague's maternity in a way that I could be proud of. I was told to know my place. That runners should just run that it's just business. Instead, I spoke up. I used my voice to fight for maternal protection for female athletes. No woman should have to choose between being a professional and being a Mother. Now, because of that fight, sponsorship contracts look different for a lot of athletes. During my pregnancy,
I had complications. And I realized I needed to use my voice to bring awareness to another injustice: a racial injustice in our healthcare system.I spoke to the United States Congress about my experience - and I continue to use my voice for change. When it came to the Olympics this year - I didn't have a sponsor for my racing spikes.
I was tired of asking for change. I knew I needed to create it.
So, *we started our own brand. It's called Saysh. We design and develop products for and by women. We started with my racing spikes. We're bringing lifestyle sneakers next and creating all of this on the foundation of community. I can't wait for you to see it all, to be part of it all. These products mean so much more to me than simply the shoes I compete in. This brand represents hope, acceptance, and the power to create change. I hope you'll come to feel that also. When you see me run, know that I'm not running for medals.

I'm running for change. I'm running for greater equity for each of us. I'm running for women. More than anything, I'm running toward a future where no woman or girl is ever told to know her place.

See You This Summer,
Allyson Felix
Mother, Activist
Saysh.com @bysaysh