Why We Need Community
Read Time ~ 3 min.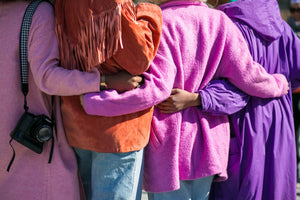 Last year I moved for the 21st time in my 31 years of life. Each move took me to another place. Another state (sometimes another country). Another house. Another job. Another school. Another set of friends. Growing up so nomadically, moving became natural to me. 
With each move, however, the most difficult part centered around the people. Leaving people I had come to love felt heart-wrenching every time. And developing a new set of friends in a new place was even harder.
But over the years, all this moving revealed to me an indispensable truth: 
Community is not only beautiful, but necessary.
You see, humans are intrinsically relational. Whether our circle is formed by proximity, by blood, or by choice, having community is essential to our well-being. Community is not just for fun; it forms us, stretches us, and grows us. Being known and surrounded by others is what enables us to bravely step into the spaces before us, to initiate change, and to make a difference in our world. 
In many ways, cultivating deep relationships with others is not only life-giving, but essential to life. 
At the same time, it can be hard to create community. It can feel extremely vulnerable to allow yourself to be known. In some ways it can feel more freeing to only allow others to know you up to a certain point rather than to move past acquaintance and invest deeply in a relationship. But it is a beautiful thing to embrace this type of knowing that goes beyond labels and initial perceptions.
What's more, this type of community is especially essential among women, where the natural inclination can be to criticize, condemn, and compete. Women are incredibly strong, resilient, and passionate. We have the power to change the world, but we cannot do it alone. We need each other.
So who are the people you champion? Who are the people who support you when you need it? Who are the people who are there when life gets upended? Who are the people who challenge you to step bravely into the places where you are particularly gifted to make a difference?
Maybe it's the lifelong friendships you've had since you were 5. Or maybe it's the friend you met a year ago but have gotten to know deeply and quickly. Or maybe it's the ones you haven't met yet—the conversations yet-to-be-had, the friend not-yet-made, the potentially life-changing relationships that are on the other side of a brave "hello."
These people are the important ones. These are the ones to hold onto. These are the ones who will make all the difference.
Yes, it can be scary to initiate, to put yourself out there, and to seek out people who can be your "people." And yes, it might take time to develop the type of community that is empowering and life-giving. But as scary as it might be to pursue, being known is worth it. Community—genuine community among women, free of pretense and criticism and rivalry—is not only beautiful; it is essential.